The Mobile Admin App is Here! – SimplyMeet.me on the Move
November 18, 2022
309
0

We've been teasing this for a while now. You knew it was coming; you just didn't know when. Well, it's here now, and you can manage your meetings on the move with the SimplyMeet.me Mobile Admin App!
The mobile admin app is available on the App Store for Apple devices and Google Play for Android.
If you already have a SimplyMeet.me account, you can simply download the app and sign in with your existing credentials.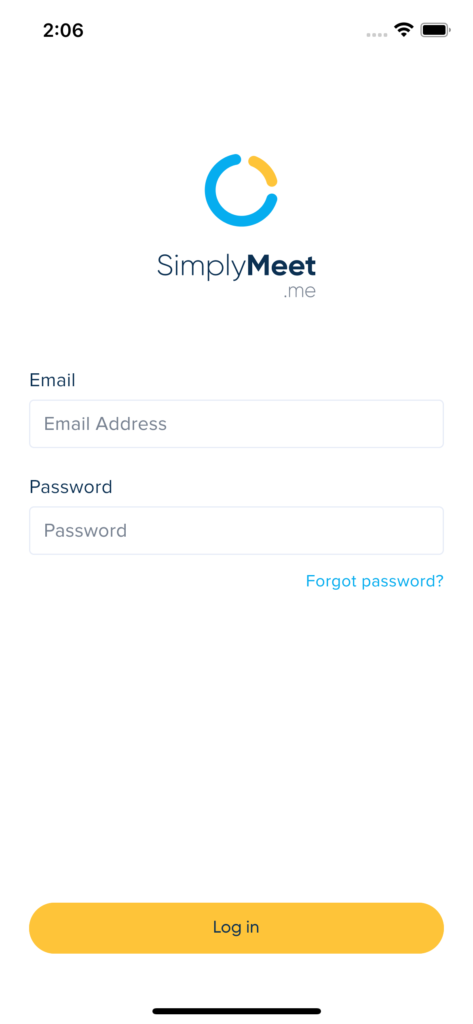 So let's find out what you can do on your mobile device to manage your meetings on the go.
---
SimplyMeet.me Mobile Admin App – Features, Functions & Views
What can you see from your app on your mobile? You might be on the train or stuck in gridlock traffic, but you can still keep on top of your scheduled meetings and even block out the time it will take to reach your office (if traffic is a problem).
Navigate to each of the different functions from the Menu once you have logged in to your account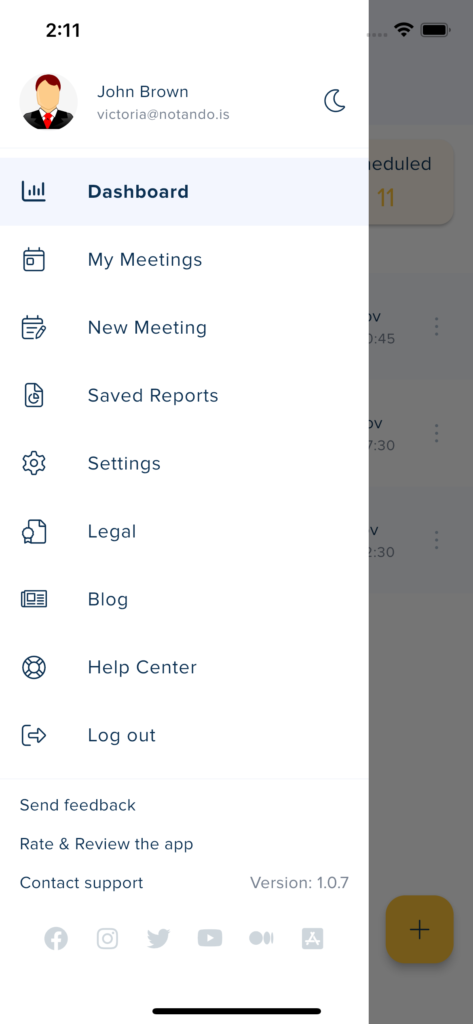 Dashboard
What is your meeting schedule overview?
How many meetings do you have coming up, how many are scheduled and how many have cancelled? Do you want to check on the reasons for cancellations?
You get a brief overview of your schedule and how you can manage the rest of your day from your dashboard.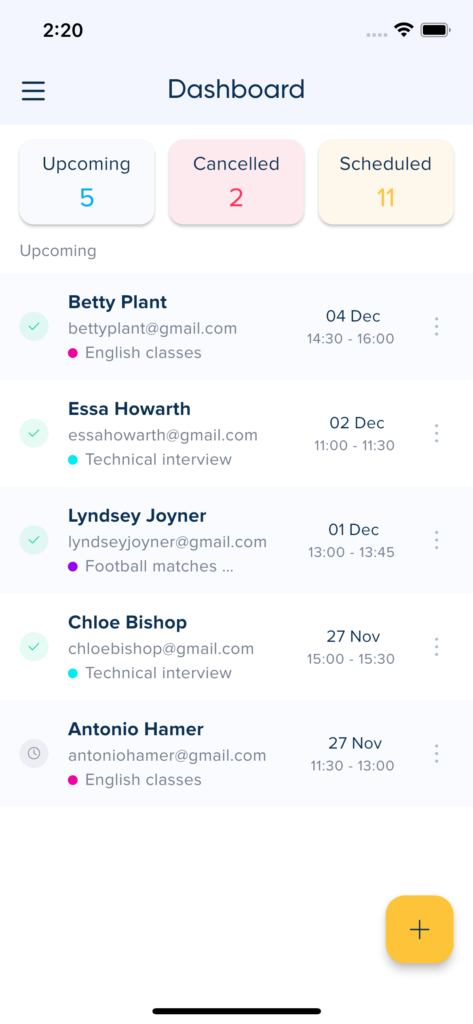 "My meetings"
Check your upcoming meetings and make sure you are prepared! Make sure you know what you need and when you need it. It's also good to check the details in case you need to make changes to the schedule.
The sooner you reschedule before a meeting; the less upset the client will be about the changes. Nothing is worse than rescheduling when the client is already travelling to the meeting or setting up their Zoom conference. You just wasted their time, and theirs is just as important as yours.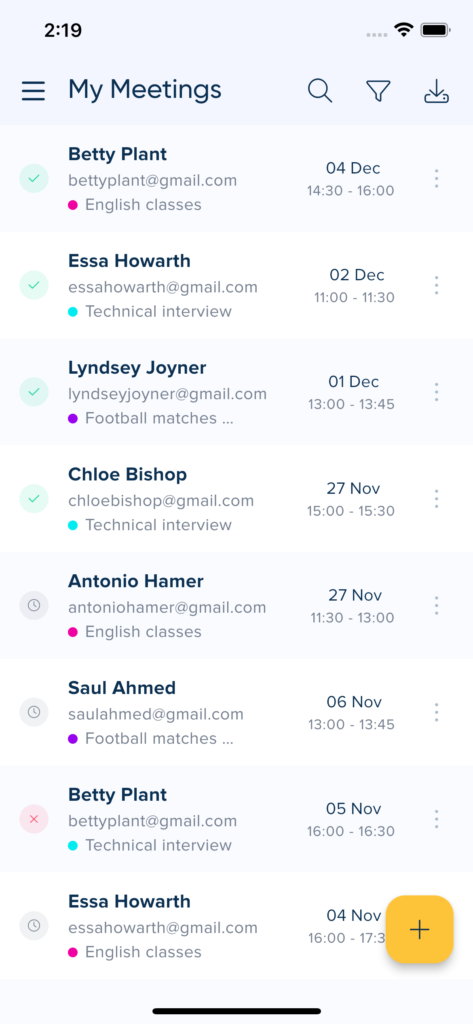 Managing meetings
You don't just get to view meetings in your app; you get to manage them too.
Check your individual meetings and rearrange your schedule as required. Your train may have been cancelled, or the weather might have blocked a major highway. You can potentially rearrange your in-person meeting to a Zoom call without losing the client.
Additionally, you might want to invite someone else to a meeting to answer questions you don't have answers to.
As a last resort, you might need to cancel the meeting. You don't want to do it, but if your client has suffered an accident or no longer wants to proceed with your project, you might not have much option. If you have a good reason for cancelling, it won't appear poorly in the reports.
Meeting types & QR codes
If you need to create a meeting, you can also do it from the mobile admin app.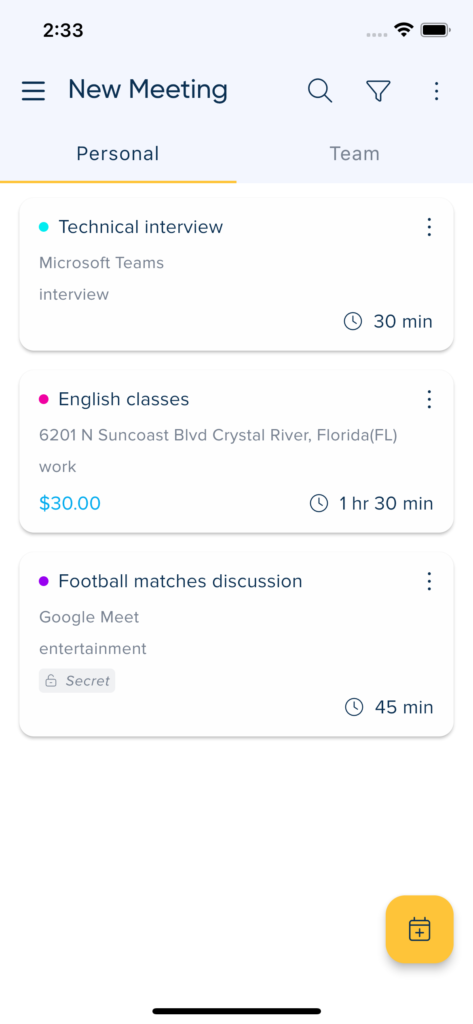 Dark Mode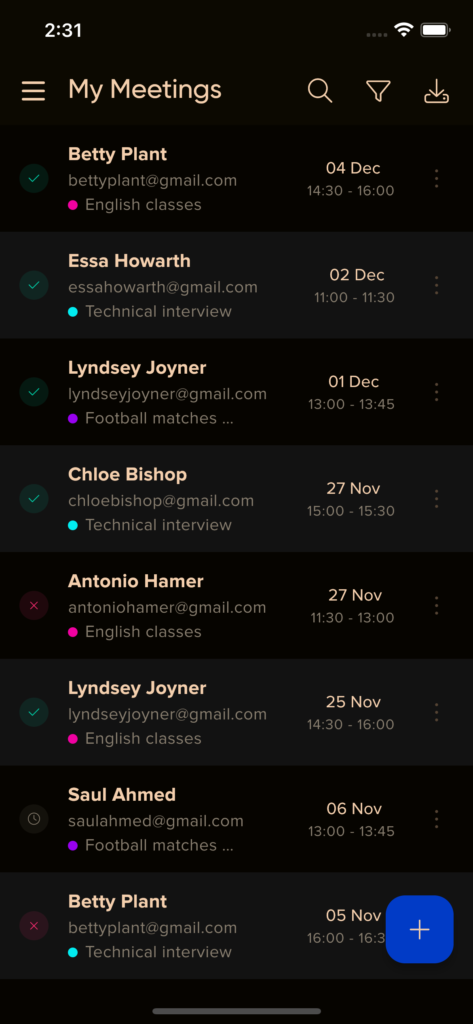 I don't know about any of you, but the dark mode was designed for people like me who can't stand reading on bright white screens. That's why any app worth the time probably has a dark or night mode. Spending a lot of time on any kind of screen can be tiring and strain the eyes. This "night mode" is perfect for when you have to check your details later on. I know I significantly prefer it over the white background. I use these on most apps, such as Slack and Facebook.
Push notifications
You will receive a push notification from the app whenever new meetings are booked, rescheduled or cancelled. The notification you receive will reflect your role and access within the organisation. Owners and managers will receive notifications for everyone under their purview, while users will only receive the push notification for meetings directly relating to their calendars.
Multiple languages
Just like the browser desktop version, you can access the app in multiple languages, according to your requirements.
Blog and Help Centre Access
Need help with something in the system when you are on the go or want to learn more about the system while you're on your daily commute? Here you go!
All blog updates will display on your system, so if there is an essential update to the system or a new feature release, you can catch up from your app.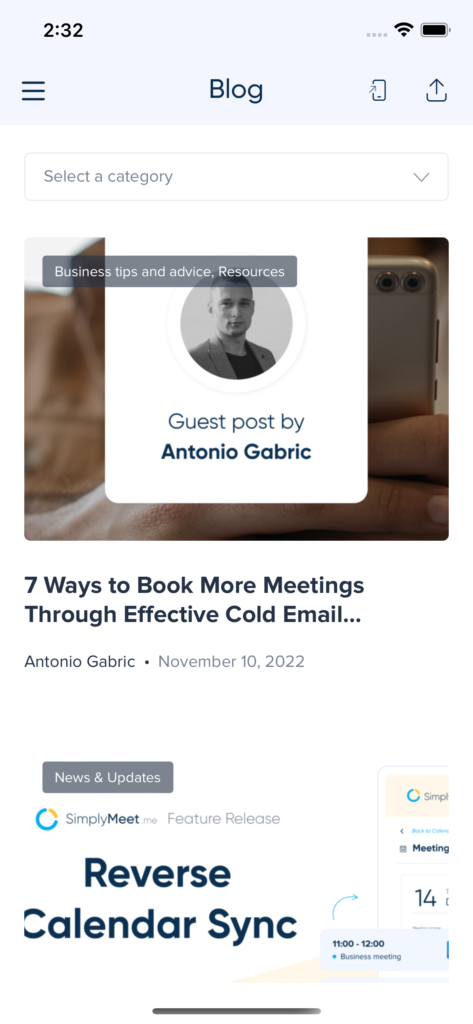 What's coming up soon?
Like any new app, we don't have everything we hoped to complete on the first release. Some things took longer than we planned, while others just demanded more development to be EVEN COOLER!
So what's already in development and testing for the next app update? I'll not keep you in suspense.
Contact Access
A significantly more cost-effective client contact method is being able to contact them through their preferred messenger – everyone has at least one of the most popular ones.
You'll be able to contact the client from your mobile device by saving their details to your contacts and using your device WhatsApp or Telegram app to contact them.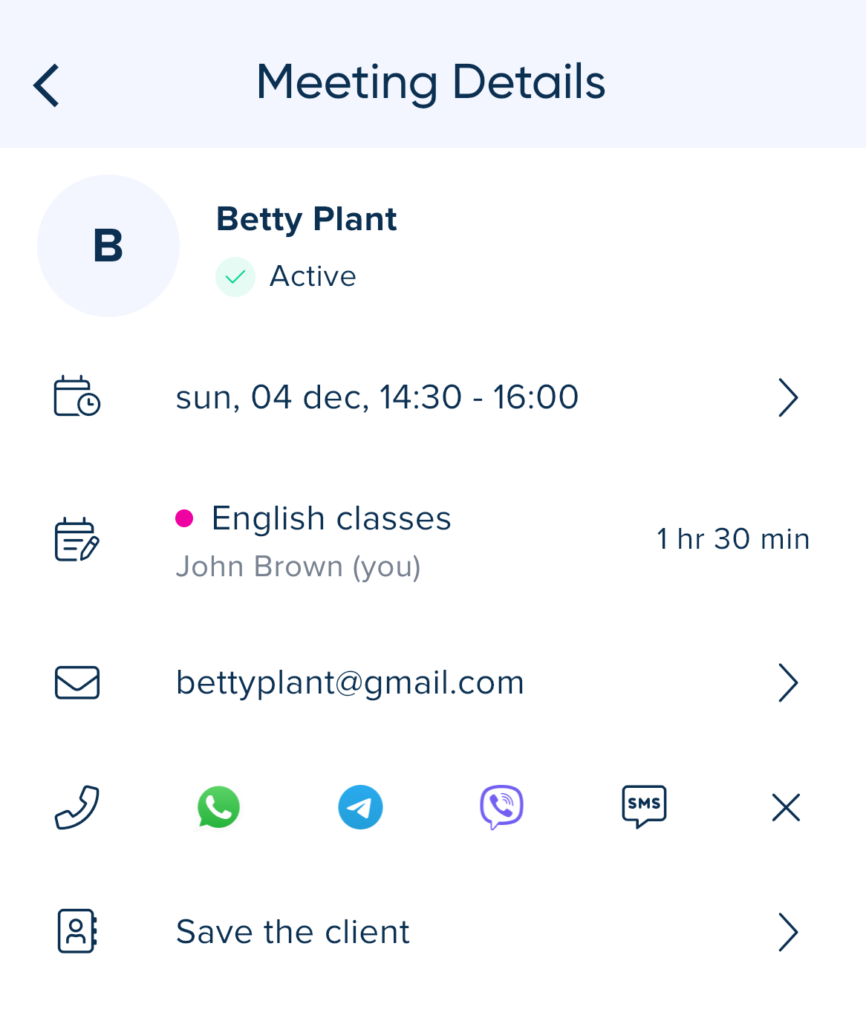 This is an excellent compromise between SMS and Email contact. Many business owners have said that SMS contact is far more engaging than email because people are more likely to check their text messages immediately. Whereas emails tend to be overlooked until they have time to go through them.
People also respond more quickly to their messenger apps. They have the immediacy of SMS engagement but without the potential for a high SMS messaging bill. This is especially true if you want to send images or even emojis (they can work out really expensive if you check how many characters they use).
Create Meeting Types
Yes, this is on the development list, too. You won't just be able to access and create existing meeting types; you will be able to create new meeting types from your mobile device.