Setting Up Meeting Types and Availability in SimplyMeet.me
December 9, 2021
726
1

So the last video tutorial for SimplyMeet.me was how to connect your calendars. This week, we will look at setting up your different meeting types and setting your availability. It's all very well knowing that you can define different meeting types and check against multiple calendars, but how do you set that up so that your meeting scheduling runs smoothly?
That's what we will look at this week.
Setting up Different Meeting Types
If you navigate from your SimplyMeet.me interface dashboard to Meeting Types, you can Create a Meeting Type or edit an existing meeting. So you create a new meeting type by clicking the yellow "Create Meeting Type" button. And if you want to modify a current meeting type, click the three dots for a dropdown menu and select edit at the top of the list.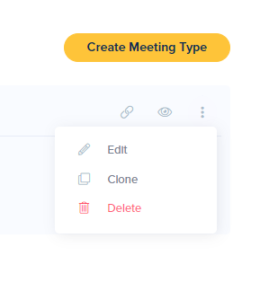 You can also clone or delete meeting types here.
Both Creating a new meeting and editing a current one will take you to the same set-up page.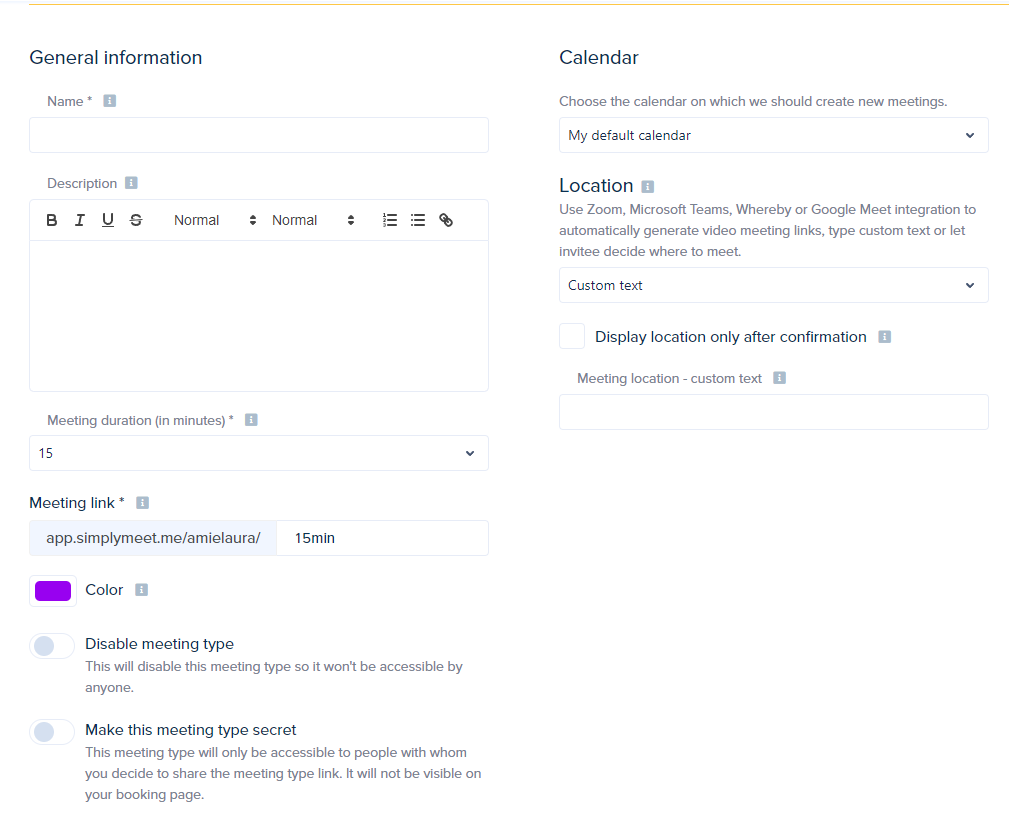 From this page you can:
name your meeting type,
include a detailed description (With some basic HTML tags)
set the meeting duration
Customise the URL link
colour-code your meeting type
Disable or hide the meeting type,
Select a default calendar
Define the location
Name Your Meeting
Make it something easily understood by clients and colleagues alike. Keep it simple.
Detailed Description
If there is any ambiguity in your meeting name or you have many meetings that are similar but with key differences, make sure your detailed description makes it easy for everyone to understand what they are booking a meeting for.
Meeting Duration
this is the period you expect to be engaged with this client or colleague. If you have any doubt as to whether this meeting will under or overrun, be conservative and go for the longer meeting type. There's nothing worse than throwing out your whole schedule by having one early meeting that overruns. Alternatively, you can scroll down to the Limits tab and include a buffer time before each meeting. It can be anything from 5 minutes to 90 minutes.
Customise URL link
If you want your clients and colleagues to know what the meeting link is for, ensure that you make the identifier clear
Colour Coding
Colour coding your meeting types makes it very easy to identify them on your calendar. There is nothing that makes understanding your calendar at a glance easier than colour coordination.
Disable or Hide Meetings
You can make your booking page available to anyone who might want to book a meeting with you, but you perhaps don't want to give everyone the opportunity to book some specific meetings with you without an invitation. For this reason, it is possible to hide some of your meeting types, so that only those with the specific link can book that meeting. You might give this link to preferred clients or members of your management team.
On the other hand, you might have some meetings that are only in use for short periods. Maybe you have an Easter Bunny business that visits schools. You only want those meetings available before and running up to Easter. However, you know you will need them again every year so you don't want to delete them completely. This is why you can disable some meetings. You can always reenable them later.
Select Your Calendar
You probably set up your default calendar when you attached your calendars to SimplyMeet.me. However, for every meeting type, you can set an alternative calendar if you want.
Define Location
Are your meetings remote, in-person, or will you let the client/colleague decide? These are options you can choose from in the location section. You also have a broad range of video calling options available, and the system will create automatic links for your invitees to join.
Custom Text will allow you to set a completely different location from your business address to the local coffee shop.
Setting Up Your Availability
On the same page as you create your meeting types, scroll down to find the Availability tab below.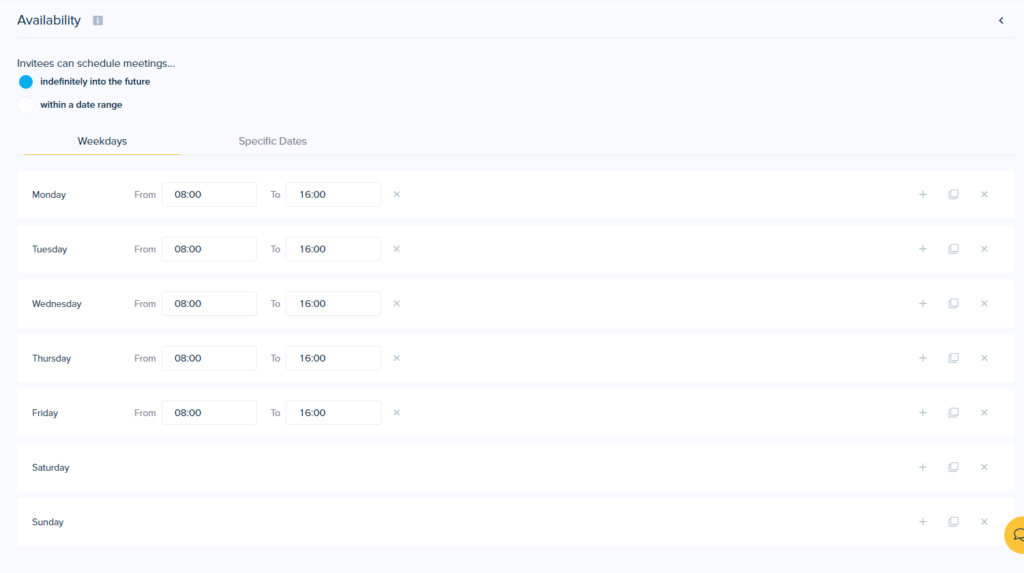 For each meeting type, you can set your availability. If you have a meeting type for clients that will continue into the foreseeable future you can set your availability for "Indefinitely into the future". Alternatively, if you are setting up 1-2-1 meetings for HR or recruitment interviews, you can set within a date range for available appointments.
Simply set the times when you are available for that particular meeting. It might be that you only take consultation meetings in the afternoon or evening, but your event meetings are always set for mornings.
Specific Dates
Specific dates allow you to set up alternative schedules for days when you don't follow a normal timetable. These could be public holidays when you might only work half-days or don't work at all. It might be a time when you are working a weekend to facilitate a busy period.
You merely switch to the "SpecificDates" tab and add your particular date and set the available times for your meeting type.