Calendar Integration with Simply Meet.me
November 24, 2021
1717
0

One of the best things about the SimplyMeet.me meeting scheduler is the ease of integrating with a vast range of different calendars. Aside from the broad range of possible calendar integration, there is the fact that you can integrate with multiple calendars at once.
Check out the video for how you link calendars with the SimplyMeet.me system to manage your time efficiently and simply.
Which Calendars Can I Integrate?
We'll keep this simple and let you see for yourself.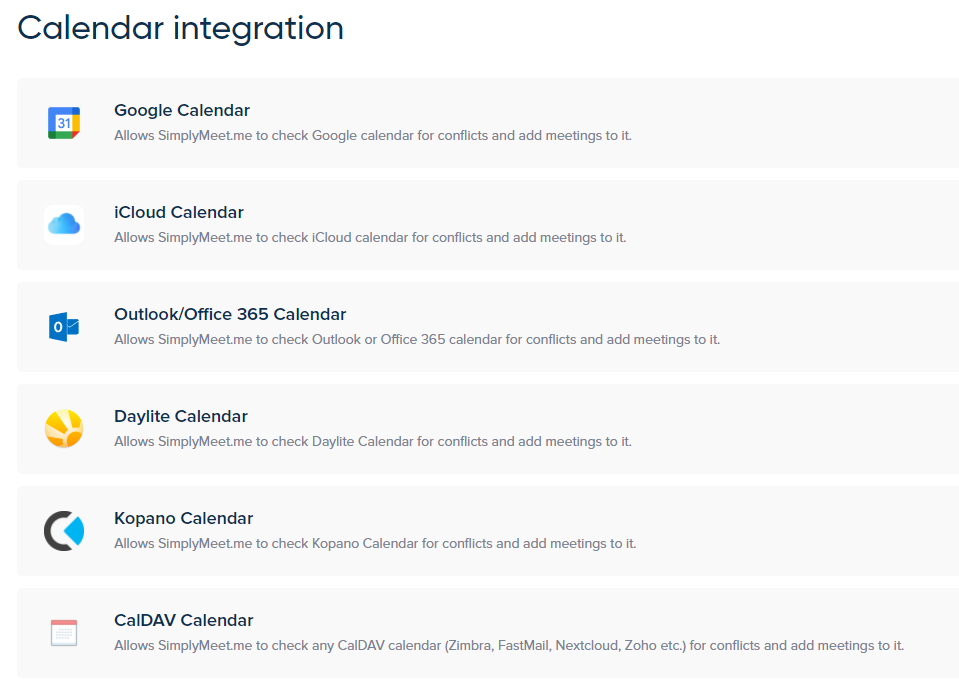 The image above shows all the calendars that can integrate with SimplyMeet me.
However, just so that we are clear, you can't only incorporate a single calendar type at once. You might have a business calendar with Daylite, a personal Google Calendar, and you have an iCloud calendar on your apple devices. If you want to check against all of those calendars before someone can make an appointment, you can.
How to Add Calendar Integrations
It's a simple process. Choose the calendar type you want to add and click the connect button. For the free forever version, you can add up to 3 calendars. In the pro version, you can add up to 8 calendars. They might not all be personal calendars; some might be shared calendars for meeting or conference room availability. However, they will still need to be checked if you need those resources to fulfil your appointment.
You will need different information for some of the calendar integrations.
Google calendar – email address and account password
iCloud – email address and password (and you will need to use 2FA and an app specific password)
Outlook/365 – Microsoft login and password
Daylite – email address and account password
Kopano – Issuer server URL and API server URL
CalDAV – Calendar title, Server URL, Email address, Password.
It's better to have this information to hand if you have several calendars to add.
Where to go from here…
Now you have your calendar integration set up, and you can begin creating meeting types and allocating default calendars to each meeting type.
Your default and primary calendar should be the one you use for all business purposes. Your default calendar integration will be the one that all booked meetings will display on. You can also choose to add your meetings to other calendars, but they will always show in the default.
You may only have one type of meeting and have defined hours to accept meeting requests. Alternatively, you may have numerous types of meetings, which must be checked against different calendars.
Some meetings might require the presence of a specific person, so you would need to check against their calendar as well as your own.
---
Don't forget to check back for more set-up tips and advice on using SimplyBook.me. We have plenty coming up …