February Newsletter – More Developments & User Feedback Responses
March 1, 2022
830
0

Well, it's hard to talk about February and what it has brought us without automatically thinking about the genuine conflict affecting our clients and us throughout Europe. However, despite the tensions that preceded the events of 24/02/22, there have been developments and updates to the SimplyMeet.me meeting scheduling system, and we want to talk about them here.
While SimplyMeet.me was based on an existing platform, it is is still very much in its youth. As such, we want to take as much feedback as possible to ensure it's meeting the needs of our users.
So let's see what our stalwart devs have been up to in February.
---
New in February
Monthly Calendar View for the Booking Site
After significant feedback from our users and a request for a monthly calendar view, we've done it. There was only an option to display a weekly calendar on the booking page until recently. And beyond that, clients would have to scroll forwards to find suitable dates for their needs. Everyone knows that people hate scrolling.

It is now possible for our users to choose between weekly and monthly display options on their accounts. Even if the users are part of an organisation, each account user can change their calendar display. It all depends on what their clients prefer.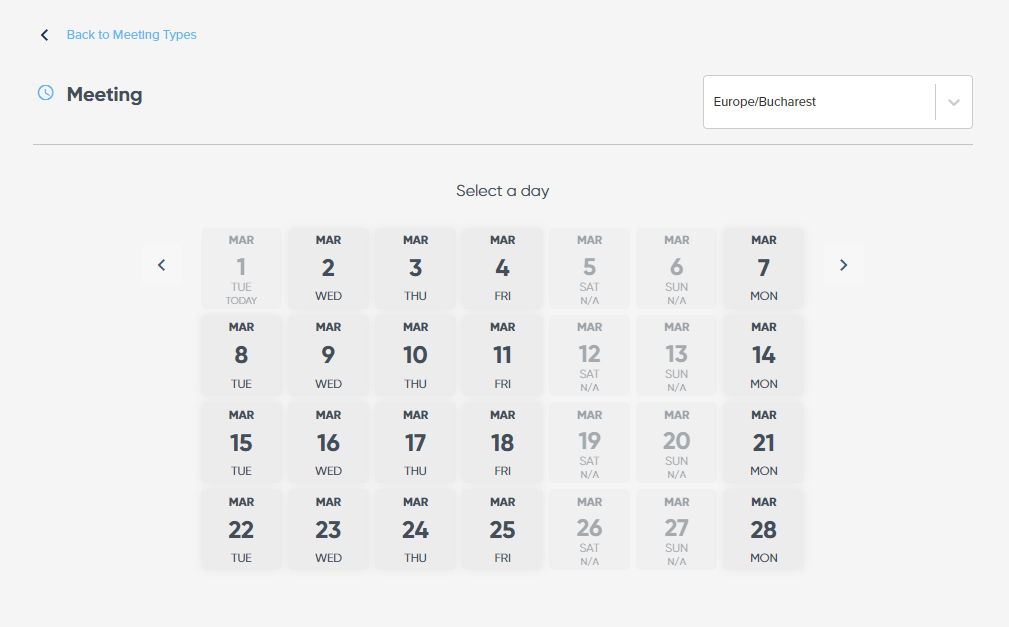 Skipping 2-Factor Authentication Setup
We strongly suggest that our users use the 2-Factor authentication feature for the admin side of the meeting scheduler for increased data security. However, we understand that many people have felt pressured and confused by repeated reminders to use 2-FA and, in some cases, believed themselves locked out of the system.
Now, we have made the "Skip this step" much more prominent, especially on mobile devices, so that users know they do not have to use 2-FA.
We have also added an option to disable the suggestion to use 2-FA, making it more noticeable so that the users will not think they have been locked out of the system.
However, if you want to enable 2-FA later, you can do this from the account settings on your admin dashboard. There is also a link to the help centre to assist you with the security function.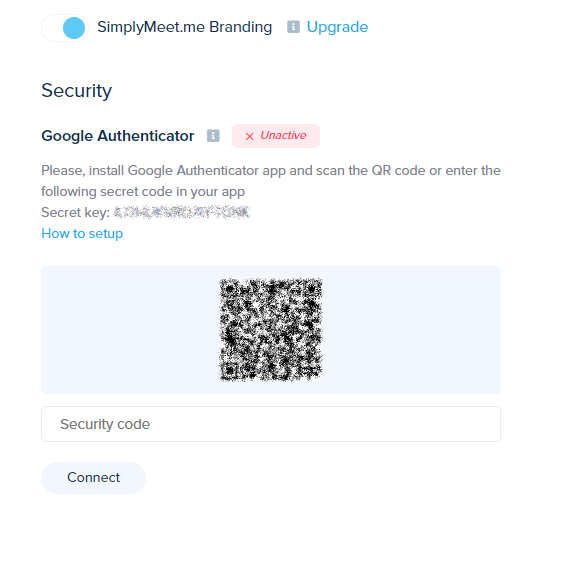 Coming up in March
OKTA Single Sign-On
We know that it can be significantly more manageable for our teams and enterprise users to use single sign-on (SSO) when you have a growing workforce. So coming up, we have the option to integrate SSO for user accounts via OKTA.
When this feature becomes available, the instructions for enabling it will be on the Integrations page of the SimplyMeet.me.me help centre.
In case you missed it
If you haven't been keeping up with the blog, you might want to check out our run-down on using the round-robin scheduling for effective work distribution. 
Maybe you need to find a good video calling platform and know your options for integrations. Check out the article on what makes the best option for your business requirements.
If you think that coaching or tutoring might be your business of the future, you might want to look at how to start a coaching business from home or how to use SimplyMeet.me for tutoring online. 
For enterprise users with a large number of meeting providers with different expertise, you might want to consider using speciality tags to enable easy filtering.
Keep up with the blog to employ a few of our business tips and SimplyMeet.me use cases.
We appreciate your patience and understanding.
While we all hope for a peaceful resolution and an end to the conflict between Russia and Ukraine, all we can do is hope for the safety of our colleagues and their families and support them however we can.
"In all history, there is no war which was not hatched by the governments, the governments alone, independent of the interests of the people, to whom war is always pernicious even when successful."

– Leo Tolstoy