SimplyMeet.me – It's officially here, and ready for you now
November 18, 2021
549
0

SimplyMeet.me is here! After several weeks of system enhancements, we are finally ready to release our new addition to the online scheduling space.
Maybe you heard a while ago that SimplyBook.me acquired the Harmonizely scheduling system adding to their existing online scheduling provision. Well, to tie in with the company ethos and branding, we're now relaunching as SimplyMeet.me.
What is SimplyMeet.me?
SimplyMeet.me is an addition to the online scheduling market that provides support to those with much simpler needs than the SimplyBook.me system. Some businesses require significant integration with resources, staffing, and much more. However, others require only the most uncomplicated meeting needs – that both parties show up at the right time and place.
It is these clients, with their more simplistic requirements, that SimplyMeet.me will serve. It's an ideal tool for anyone who needs to schedule meetings without the bells and whistles of more complex appointments. From a solopreneur who can only see a single client at once, all the way to extensive corporations with significant interdepartmental meetings, sales teams and HR requirements, SimplyMeet.me is an ideal option.
SimplyMeet.me is now available as an efficient solution for meeting scheduling, primarily targeted at users who don't require several interconnected resources, complex business logic, and a multitude of booking channels for their business. It allows anyone to connect their personal and work calendars easily and lets people effortlessly schedule one-on-one and team meetings.
What's the Story Behind SimplyMeet.me?
SimplyBook.me is already a well-known and loved scheduling system around the world. However, after years of developing the extra features required by the SimplyBook.me users, it was no longer the simple system some of our clients needed.
"While some in the team initially thought it could be risky to offer a competing solution at a lower price and that this could cause us to cannibalise our existing users, we are now all fully aligned and excited about the launch of SimplyMeet.me."

Rut Steinsen – CEO of SimplyBook.me ltd
Our management team noticed that we had 10-15,000 companies signing up each month, but
we noticed that many of them were indeed searching for a simple solution for meeting scheduling. Understanding that SimplyBook.me was no longer the best option for servicing the more simplistic meeting scheduling market, the team decided to launch an extremely easy to set-up meeting scheduler at an excellent price.
Building a solution from scratch was not a viable option. However, after searching the market for opportunities, in June we acquired the CalDav-based Harmonizely.
While the Harmonizely system was a great starting point, there were still some improvements and alterations required to make it fit with our quality and security framework. And so began the transformation of Hamonzely into SimplyMeet.me.
We are convinced that by offering both SimplyBook.me and SimplyMeet.me, a large portion of our new users will find the right solution for their needs. In the end, it's mutually beneficial."

Rut Steinsen – CEO of SimplyBook.me ltd
SimplyBook.me and SimplyMeet.me are two distinct scheduling systems. It might seem counterintuitive to have two products in the online scheduling space. However, we are sure that businesses will find the perfect meeting or appointment scheduling system for their needs. Whether that's with SimplyMeet.me or SimplyBook.me.
Try it Out!
If you need to schedule meetings ina busy timetable using the Simply Meet.me meeting scheduler for your meeting scheduling requirements, you can always give it a try – it costs nothing to give it a whirl.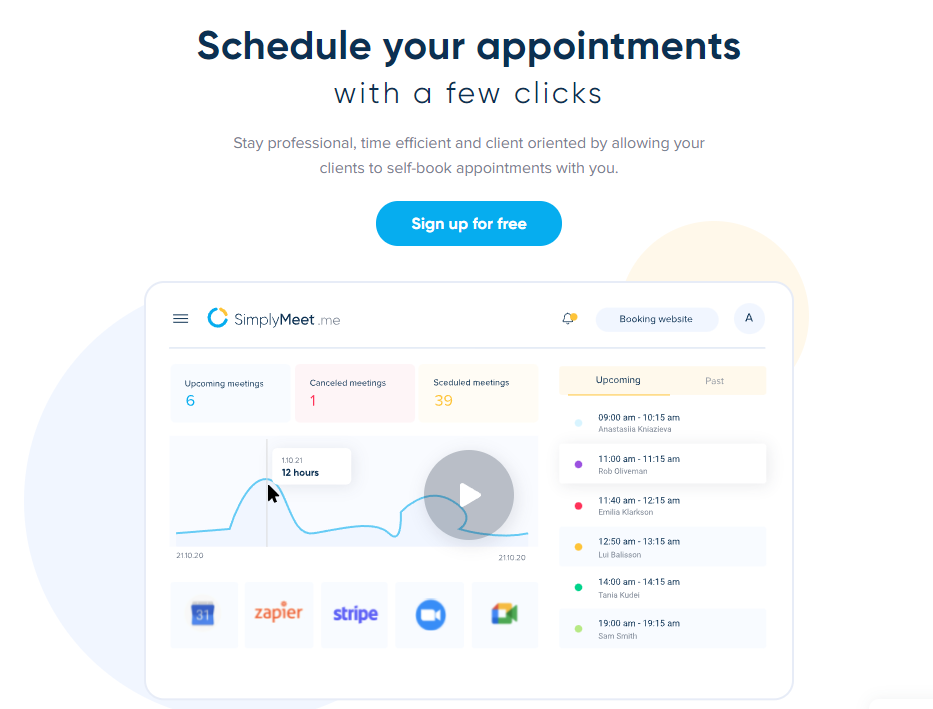 When you register, the system will walk you through the process of adding calendars with which you want to synchronise. After that your meeting types are all down to you.
Whats Next?
For the next few months the Harmonizely system will continue to work alongside the SimplyMeet.me system. The existing users of Harmonizely have all been offered the option to move to SimplyMeet.me. This new iteration of online scheduling focuses on providing a simple and effective solution for individuals, teams and enterprises to schedule and manage meetings.
There will be updates and developments in the future, but SimplyMeet.me will maintain simplicity as a core ethos. Users with changing needs due to expansion or service provision will always have the option of using the alternative, SimplyBook.me.