SimplyMeet.me May Newsletter – Hot Weather and Hotter Updates.
June 7, 2022
391
0

Here in sunny Cyprus, we have well and truly arrived in Summer. The last days of May and the first few days of June brought us a tremendous heatwave that we were not expecting. It's officially HOT! And we have some even hotter updates to the SimplyMeet.me meeting scheduler and even more to look forward to. So what does the May Newsletter have to offer you?
What's new in May
We have a significant number of new releases for the SimplyMeet.me system. May turned out to be a busy month for developers and testers, bringing you the fruits of many hours of work.
Monthly Calendar Layout 
While we previously implemented a monthly calendar view for the SimplyMeet.me system, some aspects didn't fit right. So, with the users' feedback, a more client-friendly and intuitive version of the monthly calendar layout is now available for your meeting scheduler. 
As you can see below, unavailable dates were muted, which can become confusing when you change colour schemes.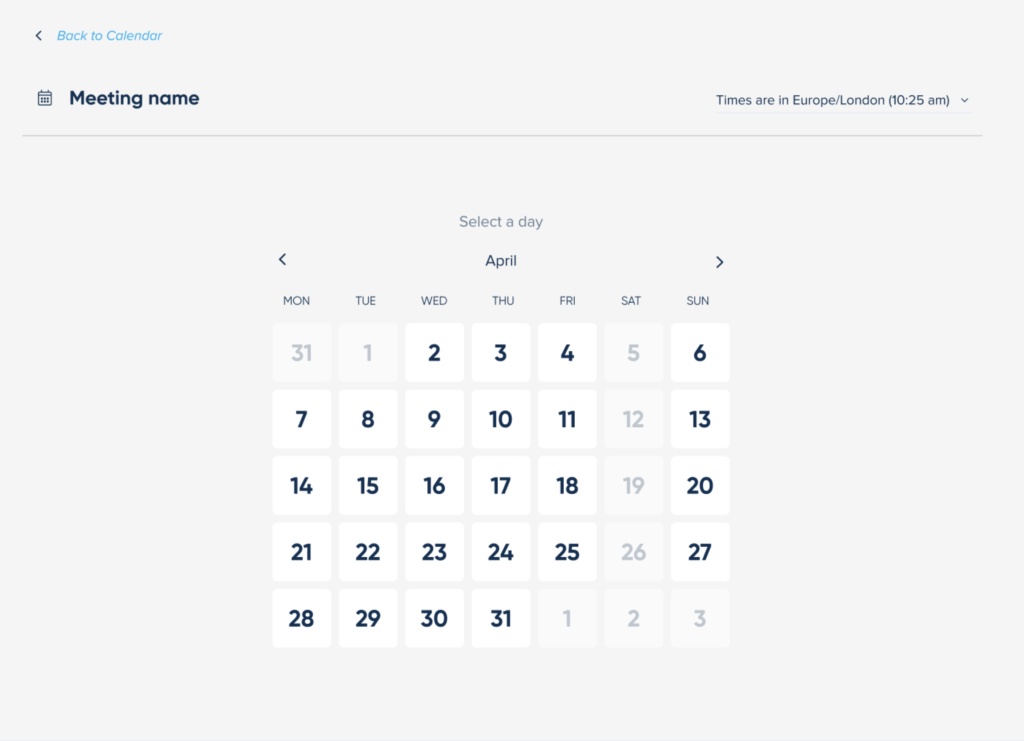 The new display also includes an option to hide unavailable dates and times so your clients can't even see the taken or non-working dates and times.
Now the unavailable dates do not show at all meaning there is no opportunity for confusion with clients wanting to book the muted dates or times. However, it's important to note that this is an option and you have to opportunity to enable or disable this feature.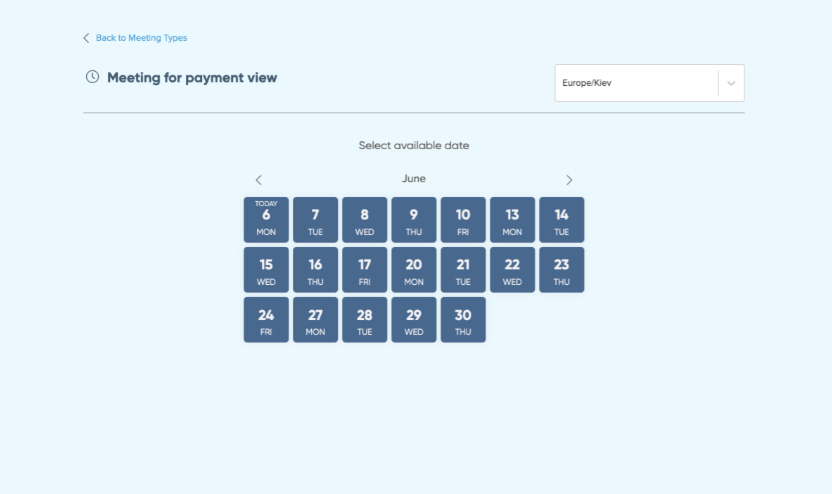 New "My meetings" page
To make sorting your meetings much more efficient, we have made some helpful changes to the "My Meetings" page.
Additional filters for a day, week, month, year, and customisation options for specific date ranges

In addition to the filtering option, there is also more functionality in the export options.
Okta SSO
In larger organisations with centralised account creation for multiple software systems, it is much easier to use a Single Sign-On (SSO) system than separate different accounts. We have now completed the integration to use single-sign-on for user accounts via the OKTA interface. You will find this option on the integrations page.
Translation Improvements
For companies with a broad reach across country and language barriers, it is helpful to ensure you have the right languages and the right meetings for your far flung clients.
You can now select the language per meeting type that affects client site and meeting notifications.
"Guests" option on the client-side
Sometimes your clients might want or need to add extra people to a meeting. Maybe they need a lawyer or company representative to witness a discussion, or perhaps they merely want someone to minute the meeting to ensure nothing is forgotten or left to slip through the cracks
We have added the possibility for clients to invite additional guests to the meeting on the booking website.
Adding location to rescheduling notifications
Sometimes you need to allow your clients the opportunity t change a location for their meeting. Maybe they need to visit another office or perhaps need to turn an in-person meeting into an online one. But how do you know?
Instead of making you manually add the variable to the rescheduling template, it is now there by default
Scheduled for June and in Development
Now we've got all the stuff that went live this month, it's time to check out al the exciting things that we have in the pipeline for June and beyond.
SMS Notifications 
In response to the many requests for SMS messaging, it is now on the cards and slated for the next month's releases. Right now we only have the option to send messages via email for SimplyMeet.me users and clients. However, our developers have been hard at work and the SMS booking notification feature is in its first round of testing.
Add Timeslots to Emails
If you have ever wished that you could send suggested meeting times in your meeting invitation emails, this feature will be just the thing for you.
Instead of simply sending your booking link and asking a cline to make an appointment from those available in your calendar, you can suggest appropriate meeting times from your calendar availability. You will also have the option to send your invitees to your booking link, if none of the suggested times fit with their schedule.
It's a common complaint that it can seem rude an impersonal to simply send a meeting link rather than suggesting appropriate time for your meetings. This allows you the best of both worlds.
2FA Live Session
While 2-Factor Authentication is an important step in ensuring data security and integrity, it can sometimes be frustrating when you have to check your 2-FA app every time you want to do something in your app, even if you have a live session open.
There will soon be an option to remember your account login, and not logout, with 2FA set in the account for live sessions.
Admin app – coming up later
While it is not slated for a quick release, you might be excited to discover that our tireless developers are working on a mobile admin app for SimplyMeet.me – so you can manage your simple meeting scheduler from wherever you are with your mobile device.
In case you missed it the first time. 
So that's it for then releases in the May newsletter. However, what have we covered on the blog over the past couple of months?
Have ever wondered about how to construct a valuable set of intake questions for your booking process? If so our article could be a good read for you.
We also discussed introducing yourself to new groups of people, who might never have known you existed with holiday hastags.
If you're in the real estate industry, you might find a new way to schedule clients vendors and viewings with SimplyMeet.me.
We have also added a couple of guest posters to our SimplyMeet.me Blog. Chloe Teo shared some common sense tips for dealing with challenging clients. We all have them from time to time. Sometmes we just need reminding that difficult clients are a part of running a business, and not to take it personally.
And Amrapali Rai gave us someinteresting insights into why we dislike online meetings. Moreover, she gave us somehelpful hints on how we can make them a much more engaging experience.
---
This month we said goodbye to two of our support agents (don't worry we have plenty of others to help you when you need it) and our HR Manager. We wish Kate, Natalia and Marta the best of luck in their new directions, even though we're sad to see them go. On a happier note though, we welcome Daena to the marketing team as a content creator. And wishing all the best for Olga, as she will soon welcome a new member to her family.
See you next time when will have new and exciting features to share with you.
Take Care!